CAST grad students takes first place at 2019 BMEidea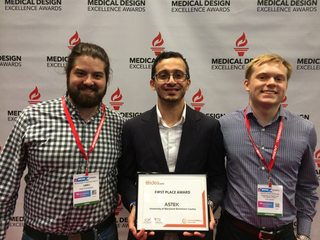 A team of three UMBC graduate students earned first place in an innovation competition for their pioneering work in the rapid detection of bacteria in blood. The students joined teams from the University of Pennsylvania and the University of Michigan, which earned second and third place, respectively, at the BMEidea competition hosted by VentureWell, a national alliance of collegiate inventors and innovators.
UMBC's team competed in the biomedical and bioengineering innovation student category of the competition, and presented a device called ASTEK, which allows physicians to more effectively treat bacterial infections. The interdisciplinary team included Mustafa Al-Adhami M.S. '15, mechanical engineering, Ph.D. '19, mechanical engineering; David Burgenson '17, chemical engineering, PhD '21, chemical engineering, and Benjamin Punshon-Smith M.S. '17, electrical engineering, and Ph.D. '22, electrical engineering.