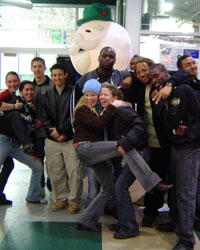 Whether it's due to its relatively small size or simply the nature of the faculty and staff involved in its operation, the department offers a particularly warm and inviting environment both inside and out of the classroom.
Undergraduates can expect to be involved in many hands-on learning experiences, including annual projects that have become much-anticipated activities, including the Senior Design class.
There are frequent opportunities to interact with faculty, staff and fellow students beyond coursework. Particular favorites include poster and conference presentations.
In addition, the department joins together to enjoy activities such as picnics and paintball.
View CBEE's Flickr site to see photo galleries of CBEE events.