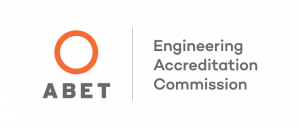 UMBC's B.S. in Chemical Engineering is accredited by the Engineering Accreditation Commission of ABET, https://www.abet.org, under the General Criteria and the Chemical Engineering Program criteria.
Program Educational Objectives
The department faculty, in consultation with various program constituencies, established the following Program Educational Objectives  – the "Five C's". These broad statements describe what our graduates are expected to attain within a few years of graduation and are based on the needs of our constituencies.
Program Educational Objectives – "The Five C's"
Within three to five years after graduation:
C1. Graduates will have Competency in the Practice of Chemical Engineering.
C2. Graduates will have Critical Thinking Abilities that enable them to solve complex engineering and related technical problems.
C3. Graduates will have the ability to work in Cooperation with Diverse Teammates.
C4. Graduates will be effective Communicators.
C5. Graduates will have demonstrated their Commitment to Life-Long Learning, and ethical responsibility.
Student Outcomes
Our Student Outcomes describe what students are expected to know and be able to do by the time of graduation. These relate to the skills, knowledge, and behaviors that students acquire as they progress through the program. Our seven Student Outcomes are related to our Program Educational Objectives and also map to the outcome requirements of ABET Criterion 3.
OUTCOME 1
1a. Identify, Formulate and Solve complex engineering problems.
Students will be able to identify and formulate a complex engineering problem by applying principles of science and engineering
1b. Use of Appropriate Tools to Solve Engineering Problem
Students will be able to use the techniques, skills and modern engineering tools (including computational, programming/modeling) necessary for the practice of chemical or biochemical engineering.
OUTCOME 2
Design Processes and Evaluate Solutions
Students will be able to design a system, component, or processes using chemical engineering principles to meet desired needs within realistic constraints and will be able to evaluate solutions or designs given realistic constraints (economic or otherwise).
OUTCOME 3
3a. Written Communication
Students will be able to communicate effectively in written form.
3b. Oral Communication
Students will be able to communicate effectively in oral form
OUTCOME 4
Understand Broader Impact
Students will have an elementary knowledge of the contemporary issues including an understanding of professional and ethical responsibility, sustainability, health & safety and the impact of engineering solutions in a global, economic, environmental and societal context.
OUTCOME 5
Work effectively in teams
Students will be able to work effectively in teams with others having different backgrounds and be able to fill both leadership and supporting roles in a team.
OUTCOME 6
6a. Ability to develop and conduct experimentation
Students will be able to develop and conduct experiments in order to obtain appropriate data for evaluation of an engineering problem.
6b. Analyze and Interpret Data
Students will be able to analyze and interpret data in order to solve engineering problems.
OUTCOME 7
7a. Define Problems, Locate and Assimilate Information
Students will be able to identify and define a problem given an open-ended question or situation and will have the ability to assimilate information relevant to a problem.
7b. Self-assessment
Students will be able to assess their own ability/knowledge to solve a problem and know when to seek help
Enrollment and Graduation Statistics
Chemical Engineering Program – Enrollment and Graduation Statistics