Chemical Engineers develop manufacturing processes for a wide variety of applications including food, pharmaceuticals, chemicals, biotechnology and environmental technology, including creating new vaccines and antibiotics to cleaning up air and water pollution.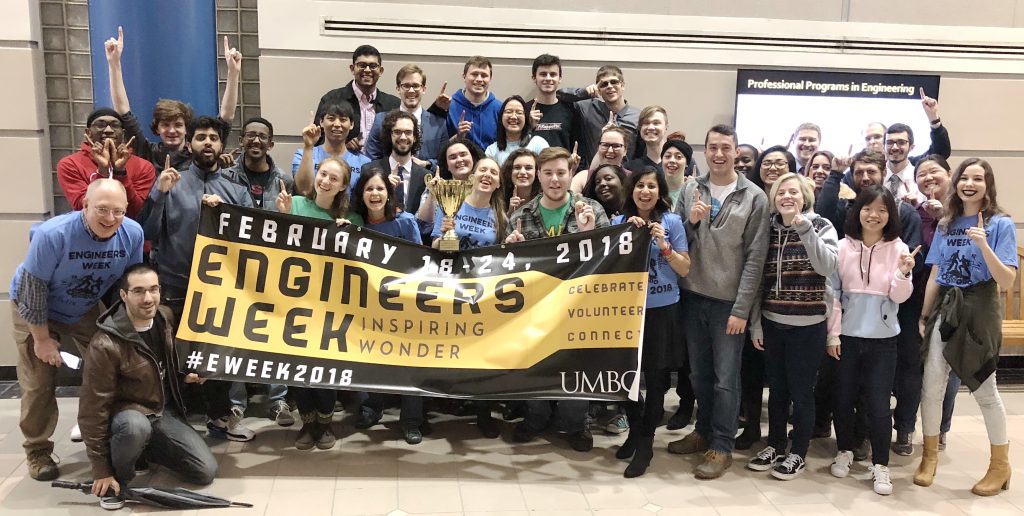 CBEE Undergraduate Programs Mission
Our mission is to instill a capacity for life-long learning based on competence in chemical engineering principles coupled with critical thinking, cooperation and communication skills.
CBEE Undergraduate Degree
B.S. in Chemical Engineering, accredited by the Accreditation Board for Engineering and Technology (ABET).
With three tracks allowing students to specialize their focus:
The Traditional Track
The Biotechnology and Bioengineering Track
The Environmental Engineering and Sustainability track
Why Chemical Engineering at UMBC?
Here's some reasons students have joined our department in the past:
INTERNSHIPS:
Over the past 5 years, over 75% of our students have participated in an engineering internship (industry or government) or academic undergraduate research. These experiences often lead to excellent jobs!
JOBS & SALARY:
In 2018, 86% of our graduates started their first job within six months of graduation, working at places such as: Exxon Mobil, Regeneron Pharmaceuticals, Northrop Grumman, US Navy, and many more!  And they had starting annual salaries ranging from $60,000 – $80,000.
UNDERGRADUATE RESEARCH:
Our faculty include undergrads on exciting, funded research projects in the areas of biomedical, environmental and bioprocess engineering. For example, in 2019, Dr. Marten has 14 undergrads working in his lab, working on cellular engineering and systems biology research (martenlab.umbc.edu).
Our programs include funded opportunities and scholarships such as Meyerhoff, MARC U*STAR, and Undergraduate Research Awards. And these students are often present their work at URCAD and are sponsored to attend national meetings to present their work (e.g., ACS). For more info on UMBC undergraduate research in general, visit https://research.umbc.edu/undergraduate-research-opportunities-and-resources/.
GRADUATE SCHOOL:
Our students have pursued graduate studies in diverse programs (Chemical, Biochemical, Bioengineering, Biomedical, Nuclear, Environmental Engineering, and even Medical schools) at universities which include: UC Berkeley, Johns Hopkins University, Stanford, UC Boulder, Cornell and many more!
ACADEMIC SPECIALIZATION:
While all students earn a BS in Chemical Engineering, we offer three tracks allowing students to specialize. These include:
The Traditional Track prepares students for graduate study or immediate industrial employment in such varied fields as chemical processing, food processing, metallurgy, energy conversion, petroleum refining and pharmaceutical production.
The Biotechnology and Bioengineering Track integrates the life sciences into each year of the curriculum and is intended for students who are interested in working in the biotechnology industry, pursuing graduate work in biochemical or biomedical engineering or going to medical school.
The Environmental Engineering and Sustainability track stems from the traditional chemical engineering track and provides specialization in the application of basic chemical engineering principles in the field of environmental engineering such as cleaning up air and water pollution and managing chemical processes to minimize environmental impact.
SMALL CLASS SIZES:
Our departmental classes are designed to provide the most individual attention possible. For example, our Intro to Chemical Engineering class (sophomore year) and all of our Junior level classes have an average of 35 – 45 students per section. Our laboratory classes are also set up such that our Sophomore lab has around 20 students per section and our Senior lab has 15 students per section.