Chris Ashby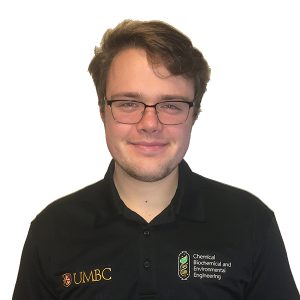 Hometown: Arbutus, Maryland
High School: Our Lady of Mount Carmel High School
Degree Track: Biotechnology and Bioengineering
Areas of Interest in Chemical Engineering: Drug delivery systems, mathematical modeling and experimental design.
My favorite thing about CBEE is: How involved all the professors are with student success.
Why I chose CBEE: I chose CBEE because of the content and the closeness of the department.
What do you plan to do with your Chemical Engineering degree:  I plan to work in the industry and work at a pharmaceutical manufacturing company, helping to create and deliver the medications people need, or continuing my education to become a professor.
UMBC Activities & Clubs: Wrestling Club, AICHE, ChemE Car Club, Academic Success Center tutor and CBEE Teaching fellow.
Hobbies: Drawing, reading, walking, and playing video games
My favorite thing about the Baltimore area: There is huge diversity in such a small area, making it easy to find great local food.
E-mail: ash39@umbc.edu
link to top of page
Kelechi Emezienna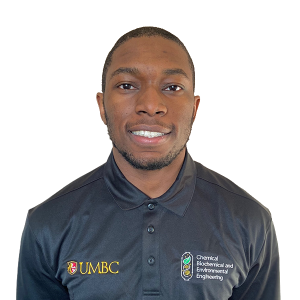 Hometown: Lanham, Maryland
High School: Dematha High School
Degree Track: Environmental & Sustainability
Areas of Interest in Chemical Engineering: Environmental health, water/wastewater, process & manufacturing, and consulting
My favorite thing about CBEE is: The faculty and staff have been a grand help along this academic journey of mine, becoming a resource for fostering my personal growth as both a man and an engineer.
Why I chose CBEE: I have an affinity for chemistry, paired with an interest in the engineering field. I enjoy fixing/problem-solving, so I believe my mind's gears turn in a way that is necessary for CBEE.
What do you plan to do with your Chemical Engineering degree: I plan on seeking work within the engineering industry. I am currently tasked with finding a summer internship where I am hoping to find an opportunity that I can continue beyond my graduation.
UMBC Activities & Clubs: National Society of Black Engineers (NSBE), AiChE and Achievement & Inspiration through Mentorship (AIM)
Hobbies: Eating, manga, video games, studying for any Chemical Engineering exam (during my free time), and after-school mentoring (grade-school students)
My favorite thing about the Baltimore area: I grew up in a more suburban area, so access to a major city like Baltimore within 15 minutes of me is a great change of pace.
E-mail:  kemezi1@umbc.edu
link to top of page
Hana Flores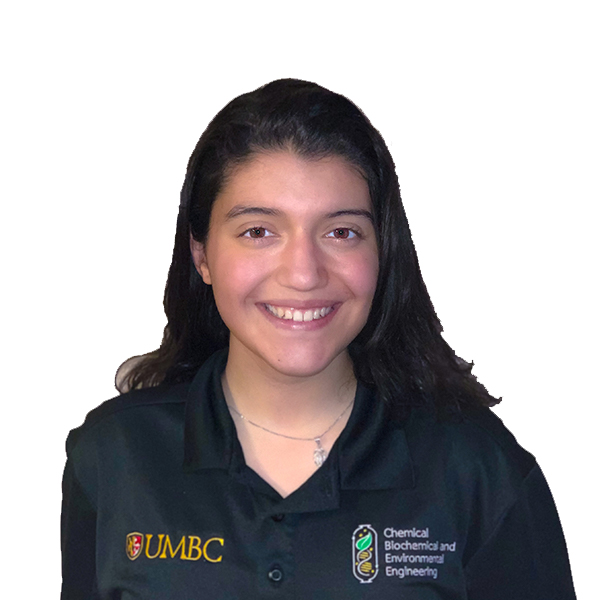 Hometown: Bowie, Maryland
High School: Bowie High School
Degree Track: Biotechnology and Bioengineering
Areas of Interest in Chemical Engineering: Tissue engineering, protein engineering and pharmaceutical engineering
My favorite thing about CBEE is: The professors! It is clear that every professor wants you to succeed and be your mentor.
Why I chose CBEE: I was interested in every aspect of STEM and wanted a major that would allow me to learn as much about science as I could which I could later apply to any field I was interested in.
What do you plan to do with your Chemical Engineering degree: I plan on pursuing my PhD in Bioengineering and then going into academic research to work towards better therapeutics for osteoarthritis and to teach at the university level.
UMBC Activities & Clubs: AIChE, ChemE Car, Ultimate Frisbee and HLSU
Hobbies: Playing piano, watching movies, and taking pictures of my cat
My favorite thing about the Baltimore area: I love trying new restaurants in downtown Baltimore! There's always a new place from a wide variety of cultures to try.
E-mail: hflores1@umbc.edu
link to top of page
Howard Nicholson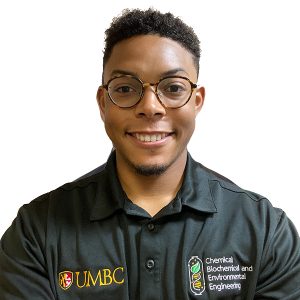 E-mail: hnicho1@umbc.edu
Hometown: Derwood, MD
High School: Poolesville High School
ChemE Track: Biotechnology & Bioengineering Track
Areas of Interest in ChemE: Regenerative medicine, tissue engineering, cardiovascular
engineering
UMBC Activities & Clubs: UMBC Inclusion Council, UMBC Gospel Choir & Jubilee Singer, National Society of Black Engineers (NSBE)
Hobbies: Reading, watching television, exercising, playing music
My favorite thing about CBEE is: the wide variety of research that is conducted.
Why I chose CBEE: because of the interdisciplinary aspect of the coursework and the adequate preparation that I would receive in pursuit of an engineering graduate degree.
My favorite thing about the Baltimore area: I enjoy having relatively easy access to Baltimore city and all that it has to offer.
What do you plan to do with your Chemical Engineering degree: I plan on pursuing my Ph.D. in biomedical engineering.
link to top of page
Mary Nolan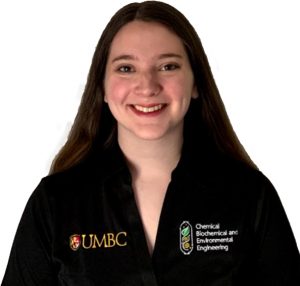 E-mail: mnolan2@umbc.edu
Hometown: New Freedom, PA
High School: Susquehannock High School
ChemE Track: Environmental & Sustainability
Areas of Interest in ChemE: Renewable energy and soil reclamation
UMBC Activities & Clubs: Member of Society of Women Engineers (SWE), Astronomy Club, and Greenpeace.
Hobbies: Hiking, reading, dancing, and hanging with my dog, Scout.
My favorite thing about CBEE is: The community of faculty and students is so supportive; the professors especially really do want to see their students succeed.
Why I chose CBEE: I chose CBEE because I always did well in and enjoyed math and science courses, and I really wanted to use the combination of them to improve the environment.
My favorite thing about the Baltimore area: I really like how close everything is to UMBC, especially with all the opportunities, food, and things to do in the city.
What do you plan to do with your Chemical Engineering degree: I want to work in the field and get experience first hand improving the environment and eventually go into law and policy to further this goal.
link to top of page
Kiersten Patron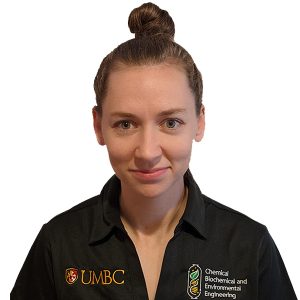 E-mail: kpat1@umbc.edu
Hometown: Baltimore County, Cockeysville, MD
High School: Dulaney High School
ChemE Track: Environmental Engineering and Sustainability track
Areas of Interest in ChemE:Manufacturing, Sustainable Manufacturing, Plastics
UMBC Activities & Clubs: None (Started UMBC during Covid, getting involved is hard.)
Hobbies: Indoor plants, Tennis, Ceramics, Graphic/Interior Design
My favorite thing about CBEE is: The opportunities for the future I'll have after graduating from this very strong program.
Why I chose CBEE: Coming from an art background I was craving a way to combine math and design and chemical engineering is it for me.
My favorite thing about the Baltimore area: The culture and the iconic Baltimore Townhomes in Baltimore City; I cannot get enough of them. The design and aesthetic of the townhomes are inviting and I feel like I'm home whenever I see them. The closeness to DC is also great. I am an avid NWSL, National Women's Soccer League, fan and go to as many Washington Spirit games as I can.
What do you plan to do with your Chemical Engineering degree: Be a chemical engineer!
link to top of page
Jameka C. Wiggins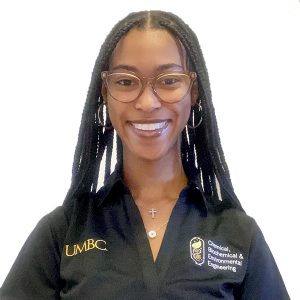 E-mail: jameka2@umbc.edu
Hometown: District Heights, Maryland
High School: Charles Herbert Flowers High School
ChemE Track: Traditional
Areas of Interest in ChemE: Process Design, Food Safety and Processing, Manufacturing
UMBC Activities & Clubs: Alpha Kappa Alpha Sorority, Incorporated (President), National Society of Black Engineers (Senator), Office of Equity and Inclusion Inclusion Council Member (SREB and Sexual Misconduct Co-Chair)
Hobbies: Roller Skating
My favorite thing about CBEE is: The Black student community, while we are a small group of students, I love how we support one another. We work to advocate for the overall experience and success of other BIPOC students in the CBEE Department to ensure we are all continuously working towards the goals we wish to accomplish.
Why I chose CBEE: I decided to become a student in the CBEE Department because I wanted to create my own line of hair care products for women of color that were effective and affordable; and chemical engineering was the best route to take. Chemical engineering allowed me to combine my interest in chemistry with my love of problem solving, critical thinking, and engineering design.
My favorite thing about the Baltimore area: I cannot say I have one favorite thing about Baltimore, MD because I have so many! Baltimore has a rich history, the city has quite a few museums and interactive tours of historical sites. In addition, there are lots of free outdoor activities and numerous restaurants to enjoy throughout the city.
What do you plan to do with your Chemical Engineering degree: I plan to work in industry and pursue a doctoral degree in Engineering Education.
link to top of page