Prospective Graduate Students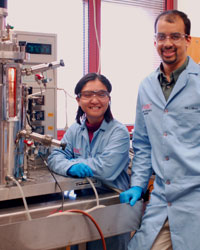 Students pursuing advanced studies in Biochemical, Biomedical and Environmental Engineering explore fundamental concepts with faculty at the leading-edge of engineering research.
Our department has two different graduate programs:
Degrees offered as part of these programs are shown on the Graduate Degree Programs page.
Chemical & Biochemical Engineering. The primary emphasis here is on biotechnology and biomedical engineering. The department takes full advantage of its strategic location in the Baltimore-Washington corridor and its proximity to many of the nation's top biochemical companies, including Baxter, MedImmune, Life Technologies, Martek and Human Genome Sciences. The program's research facilities include state-of-the-art laboratories equipped with modern fermentation, cell culture, separations, protein structure and materials characterization, biomaterials synthesis and other analytical equipment.
Environmental Engineering & Water Resources. Here the emphasis is on water resources. Faculty carry out projects focused on water quality, watershed hydrology, wastewater treatment and storm water management. Experiments are carried out in recently renovated wet laboratories or on various sites. Faculty offices are co-located with those of the Baltimore Ecosystem Study and the Center for Urban Environmental Research and Education (CUERE) in the Technology Research Center at UMBC.
We encourage students from a range of disciplines to consider graduate degrees in chemical and environmental engineering. We want our students to be successful, and we believe the following classes are crucial for success in the graduate program: Chem I, Chem II, Physics I, Calc I, Calc II, DiffEq
We highly encourage students to have: Physics II, Organic Chem
In some cases, we have provisionally admitted students on the condition that they get a B or better in differential equations before joining the program at UMBC.