Graduate Certificate in Biochemical Regulatory Engineering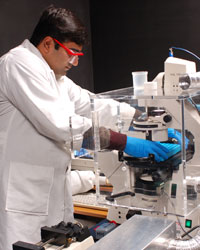 UMBC's graduate program in biochemical regulatory engineering guides students through the ins and outs of the FDA process and explores the numerous pre-production considerations that can help to ensure product approval.
Taking a new biotechnology product through a lengthy and rigorous FDA submission and approval process can be a daunting experience. Understanding the framework of such a process will provide a significant advantage to those involved in these endeavors.
UMBC's graduate certificate in biochemical regulatory engineering provides in-depth exposure to key areas associated with bringing a biological product to market under FDA approval. This 12 credit program consists of four courses focusing on regulatory issues, compliance issues associated with Good Manufacturing Practices (GMP), quality control and quality assurance and facilities considerations for complying with GMP.
The program attracts a diverse student population, including current graduate students, seasoned scientists and non-scientific professionals involved in biotechnology such as attorneys and architects. Graduates of the program have come from leading health and science organizations such as Human Genome Sciences, MedImmune, SAIC (Science Applications International Corp.), U.S. Army Medical Research Institute of Infectious Diseases and the FDA.
For more information, contact Dr. Antonio Moreira, vice provost for academic affairs, on 410-455-6576 or via email at moreira@umbc.edu.