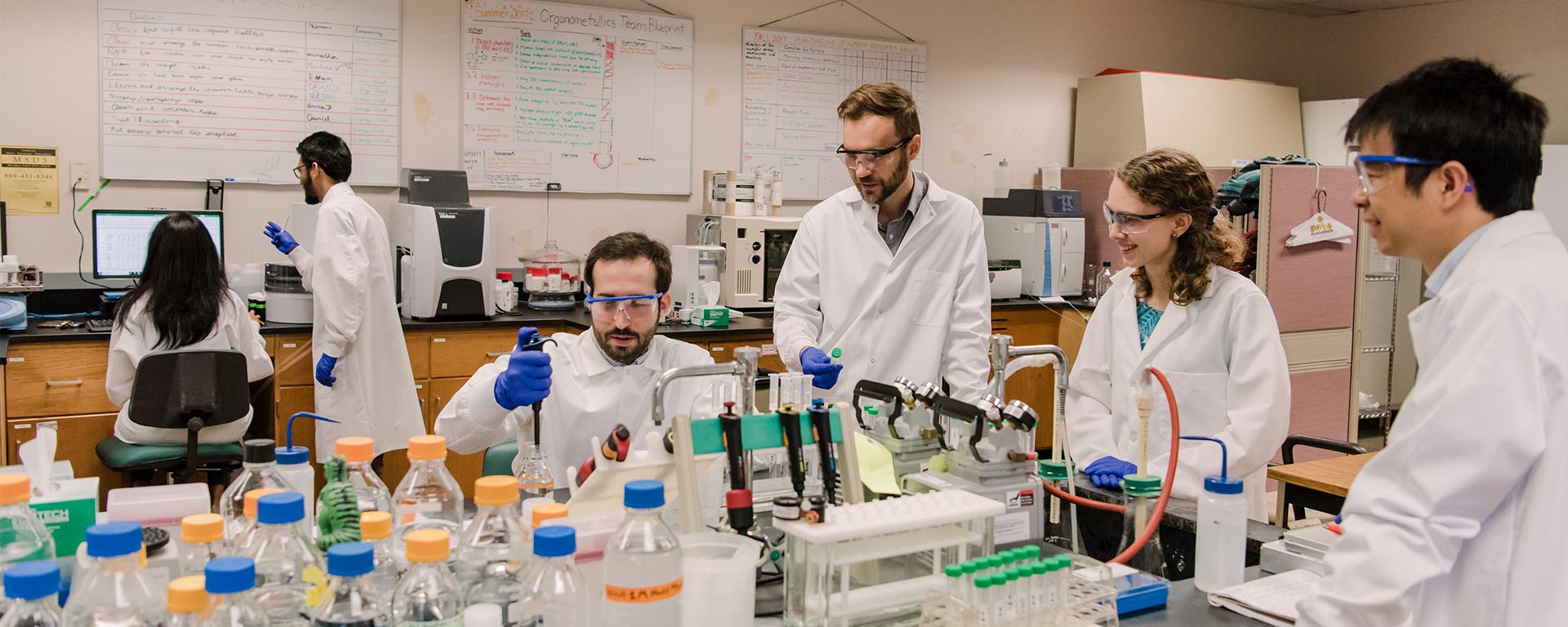 Environmental engineers in the department are actively researching the fate and impact of pharmaceuticals in wastewater, analysis and remediation of toxic pollutants in soils and other environments, the processes governing atmospheric chemistry and aerosol pollution, and advanced real-time modeling and monitoring of groundwater-surface water conditions.
The Ph.D. degree is awarded only upon sufficient evidence of high attainment in scholarship and the ability to engage in independent research in the field of environmental engineering.
The Ph.D. degree is substantially heavier in research compared with the M.S. degree and is geared towards successfully mastering a body of skills and knowledge in preparation for a career as an independent scholar. This degree is recommended for those who expect to engage in a professional career in research, teaching, or technical work of an advanced nature.
The basic components to earn the Ph.D. degree are:
Completion of a minimum of 21 coursework beyond the bachelor's degree, including core curriculum
Minimum of 18 credit-hours of doctoral dissertation research (ENEN 899)
3 credits of Pre-Candidacy Doctoral Research (ENEN 898) and passing a qualifying exam
Successful preparation and defense of a dissertation proposal
Public defense of the doctoral dissertation
Research
Students seeking a Ph.D. are also required to pass a written qualifying examination. The PhD candidate must take at least 18 hours of dissertation credits (ENEN 899) and produce a dissertation that demonstrates a significant contribution to the state-of-the-art in the topic selected. The Ph.D. dissertation committee is required to include at least one external member. There is a residency requirement for Ph.D. students and a qualifying exam and dissertation proposal defense are required for candidacy to the Ph.D. program.
Aerosol Science
Atmospheric Chemistry
Automated Reasoning
Additive manufacturing
Environmental Engineering
Environmental Risk Assessment
Groundwater Transport
Machine Learning
Oxygen Toxicity
Site Risk Assessment
Soil and Sediment Remediation
Subsurface Hydrology
Water and Wastewater Treatment
Water Quality
Water Resources Systems Analysis
Watershed Hydrology
Coursework
The completion of a minimum of 21 credit-hours of graduate courses beyond the bachelor's degree (some of which can come from MS degree). The core curriculum includes 12 credits of coursework. The specific course work for each student is determined by the candidate's PhD committee. These courses would be drawn from Departments within the College of Engineering and the College of Arts and Science (e.g., Department of Chemistry and Biochemistry). PhD students can also take classes from the MEES program (several faculty are members of the MEES program).
Course descriptions are found in the UMBC Course Catalog. A grade point average of 3.0 in all courses must be maintained to remain in good standing with the Graduate School. Courses taken to fulfill the requirements of the program must be approved in advance by the Chemical Engineering graduate program director and by the student's advisor, if one has been selected.

ENEN Core Curriculum
4 discipline-specific courses from the following options:
ENEN 610 Environmental Chemistry
ENEN 612 Environmental Physicochemical Processes
ENEN 614 Environmental Biological Processes
ENEN 621 Groundwater Hydrology
ENEN 660 Air Pollution
ENCH 630 Transport Phenomena
ENME 645 Applied Computational Thermo/Fluids
GES 616 Physical Hydrology
MATH 441 Introduction to Numerical Analysis
Program Prerequisites
Students looking to pursuing a Ph.D in Environmental Engineering may or may not have a undergraduate degree in an engineering discipline. All applicants, no matter what undergraduate degree one has completed, must have earned a B or better in key prerequisite courses.
The key prerequisites for the Environmental Engineering graduate program are:
Admission requirements and procedures correspond to the requirements set forth by the UMBC Graduate School. Information on our Fee Free Application available here.