Graduate Assistants (GAs) must be registered as full-time students whether they hold a full-time appointment or a part-time appointment. To be considered full-time, a student must be registered for a minimum of nine (9) credits in each Fall and Spring semester. The student must be registered in courses that lead toward his/her degree.
Billing Rates
Benefits of enrolling in GRAD 600, GRAD 601 or GRAD 603
Full-time GAs must be enrolled in 9 credits. GRAD 601 can be used to fulfill the credit requirement.
In the schedule of classes, GRAD 600, GRAD 601 & GRAD 603, are listed under the subject "GRAD – Graduate School Assistantship".
GAs are not billed tuition or fees for GRAD 600, GRAD 601, or GRAD 603;
GRAD 600, GRAD 601, and GRAD 603 do not appear on transcripts;
GRAD 600 (3 credits), GRAD 601 (5 credits), and GRAD 603 (2 credits) will appear at registration to be for 0 credits. However, GAs are receiving the proper number of credits (3, 5, and 2, respectively);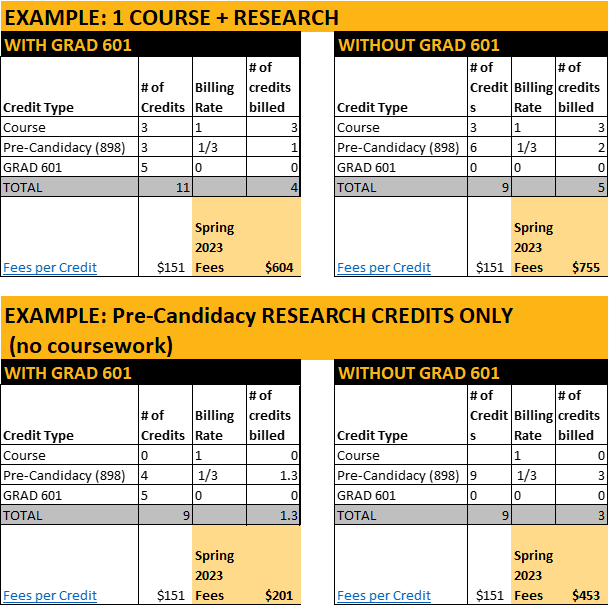 PRE-CANDIDACY are all semesters BEFORE CBEE students complete proposal
If you are asked for permission number to enroll in GRAD 601, just click through. You do not need to enter a permission number.