Lee Blaney Honored by Maryland Science Center!
November 27, 2017 9:08 AM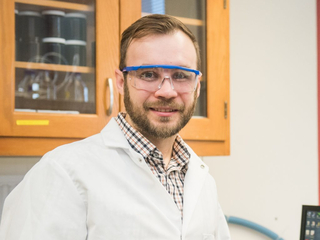 A UMBC faculty member and a UMBC alumnus were recognized by the Maryland Science Center for their outstanding work in engineering and science. Lee Blaney, associate professor of chemical, biochemical and environmental engineering, was one of two people to receive the 2017 Outstanding Young Engineer Award, and Phillip Graff '08, physics, was awarded one of two 2017 Outstanding Young Scientist Awards. The ceremony, hosted annually by the Maryland Science Center and the Maryland Academy of Sciences, highlights the work being done by young scientists and engineers in Maryland to advance the fields.
In his work, Blaney develops technology used to recover nutrients, such as phosphorus, from poultry litter. The phosphorus found in poultry litter often saturates the soil on the Eastern Shore of Maryland, making the water that runs off into the Chesapeake Bay a hazard for aquatic life. The technology he is testing in his lab could reduce the amount of phosphorus that ends up in the Chesapeake Bay from manure by about 90 percent.

-- Umbc News