Kafui Dzirasa featured on NIH Director's Blog
NIH Family Members Giving Back: Kafui Dzirasa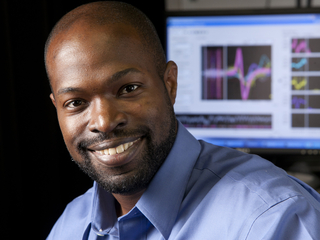 The NIH Director's Blog recently featured a story on Dr. Kafui Dzirasa (UMBC-CBEE, BS 2001), highlighting his interaction with the Meyerhoff Scholars Program. Dr. Dzirasa is also the winner of the UMBC College of Engineering and Information Technology, Alumnus of the year (2017). 
Read the full blog post here: 
https://directorsblog.nih.gov/2017/08/15/nih-family-members-giving-back-kafui-dzirasa/
Caption:
 Kafui Dzirasa (front center) with the current group of Meyerhoff Scholars at University of Maryland, Baltimore County.
Credit:
 Olubukola Abiona