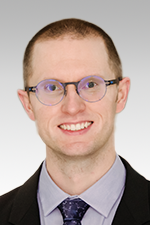 Assistant Professor
Affiliate Faculty Member, Computer Science & Electrical Engineering
Contact Information
AI & Theory-Oriented Molecular Science (ATOMS) Lab
Education
B.S. Chemical Engineering – University of Minnesota, 2011
Ph.D. Chemical Engineering – University of Delaware, 2017
Research Interests
Using molecular simulation to understand adsorption and catalysis in nanoporous materials
Developing artificial intelligence tools to learn complex relationships in material performance and thermodynamic properties
Applying these tools to gain molecular-scale insights on processes in the environment to enable new solutions for cleaner air and water
Josephson, T.R.; Dauenhauer, P.J.; Tsapatsis, M.; Siepmann, J.I. Adsorption of furan, hexanoic acid, and alkanes in a hierarchical zeolite at reaction conditions: Insights from molecular simulations. Journal of Computational Science 48, 101267. (2021)
Rahbari, A.; Josephson, T.R.; Sun, Y.; Moultos, O.A.; Dubbeldam, D.; Siepmann, J.I.; Vlugt, T.JH. Multiple linear regression and thermodynamic fluctuations are equivalent for computing thermodynamic derivatives from molecular simulation. Fluid Phase Equilibria 523, 112785 ,(2020).

Josephson, T. R.

, Singh, R., Minkara, M. S., Fetisov, E. O., and Siepmann, J. I. "

Partial molar properties from molecular simulation using multiple linear regression

." 

Molecular Physics, 117

, 2019.

Josephson, T. R.

, DeJaco, R. F., Pahari, S., Ren, L., Guo, Q., Tsapatsis, M., Siepmann, J. I., Vlachos, D. G., Caratzoulas, S. "

Cooperative catalysis by surface Lewis acid/silanol for selective fructose etherification on Sn-SPP zeolite

." 

ACS Catalysis

, 8, 2018.