Doctoral Students
Those interested in pursuing a Ph.D. in Chemical and Biochemical Engineering or Environmental Engineering can apply after earning an undergraduate degree or master's degree, as long as the necessary program requirements are fulfilled.
Graduate teaching and research assistantships are available to qualified doctoral candidates through the Chemical, Biochemical and Environmental Engineering program.  Most PhD students admitted to the department are paid a stipend of $32,300/year plus tuition remission and health insurance.
Master's Students
Students seeking a Master of Science in Environmental Engineering or Chemical Engineering may find funding as a research assistant in a laboratory or as a TA in another department on campus. However, it is the student's responsibility to secure their own funding.
International students can find additional resources on Financing Your Studies at UMBC's Center for Global Engagement.
FUNDING OPPORTUNITY FOR ENEN MS STUDENTS (2020-2025)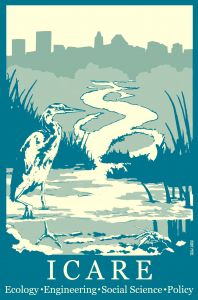 Interdisciplinary Consortium for Applied Research in Ecology and Evolution (ICARE): Broadening Participation Across the Environmental Sciences in Baltimore Harbor National Science Foundation, Research Training (NRT) Grant.
The ICARE NRT Master's Degree Program in community-engaged environmental science and social justice is now accepting applications. ICARE supports students performing research focused on improving the health of Baltimore Harbor as a socioecosystem. The ICARE program will begin reviewing applicants after January 1, 2021. Also worth noting is that the ICARE program will be running for the next 5 years, and plans to train 3 cohorts of students, earning degrees in 2023, 2024, and 2025.
Other
University fellowships may also be obtained. More information on funding opportunities can be found by visiting UMBC's Graduate School website.