Meet a CBEE-er: Meet Samiha Sharlin
Ph.D. student, chemical and biochemical engineering
by: Arya Honraopatil
Meet Samiha Sharlin. 
Samiha Sharlin is a chemical and biochemical engineering doctoral student in the department of Chemical, Biochemical and Environmental Engineering. Samiha received her B.S. in Chemical Engineering from Bangladesh University of Engineering and Technology (BUET) in 2017. She is now pursuing her Ph.D. in the ATOMS Lab under the supervision of Prof. Tyler Josephson, where her research focuses on enhancing simulation methods for adsorption in porous materials using machine learning. In her free time, she enjoys exploring nature and tuning in to spiritual podcasts.
Tell us about your path to UMBC.
After completing my engineering degree, I entered the workforce and found myself in a job not aligned with my academic background. Despite being promised a research-oriented position, I ended up in Supply Chain Management, which left me feeling unfulfilled and disconnected from my passion for research and engineering. Additionally, the majority of the industry jobs I desired were located in unsafe areas on the outskirts of the country, creating further challenges and concerns. These experiences sparked a profound realization that I wanted to be in academics and continue my studies.
In my search for the right institution, I sought recommendations from trusted sources, and one of my friends from undergrad school spoke highly about her experiences at UMBC. As I researched colleges in the USA, UMBC consistently stood out to me as an inclusive and supportive community. UMBC has not only provided me with a platform to explore and grow academically but has also offered a supportive and inspiring community that has truly enriched my journey.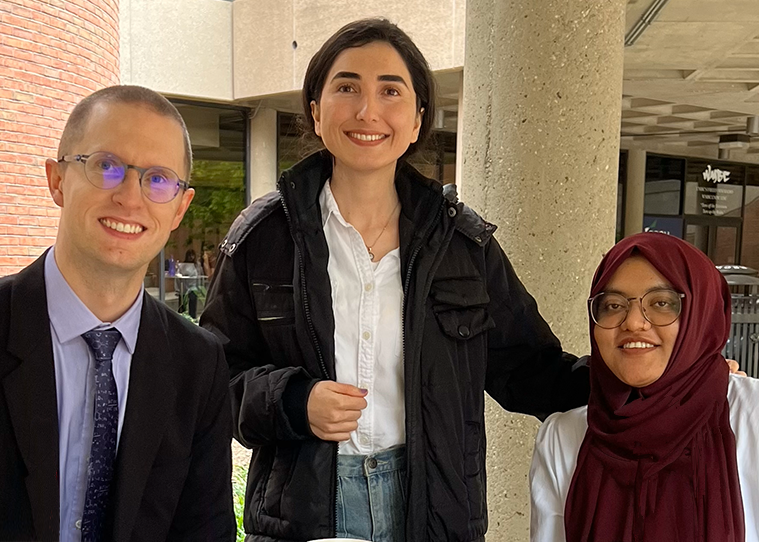 left to right: Dr. Josephson, Parivash Feyzishendi & Samiha Sharlin outside of UMBC's University Center in Spring/Summer 2023. Photo Credit: Sharlin Sharlin
What do you love about CBEE? 
"Prioritize people over projects" - I have always believed in this! And especially in graduate school, the journey can be long, and being in a supportive environment is crucial. At CBEE, I've found the best of both worlds – a community that values individuals and fosters meaningful projects. The warmth and close-knit community in this department is truly special. You instantly feel connected with the professors, and they genuinely listen and value your input.
Let me share a heartwarming incident that illustrates this point - When I first arrived, I had come in quite late - just one day before classes began. Unfortunately, I missed orientation and also hadn't registered for classes. I wasn't sure if I could attend classes without registration which resulted in me missing my first class. However, when Dr. Raikar saw me wandering in the department hallway, she already knew my name and warmly approached me. To my surprise and delight, she graciously shared the notes for the class I had missed without hesitation. It made me feel incredibly welcomed and supported right from the start. This kind of caring and personal attention has been a consistent experience throughout my time at CBEE, and it has deepened my appreciation for this wonderful community.
What do you love about your academic program?
One of the things that sets CBEE apart is its unique combination of biochemical, chemical, and environmental disciplines within the same department, which is a rarity among engineering programs. This was especially beneficial for me because I was uncertain about which track to pursue for graduate school. CBEE offered the opportunity to do rotations, allowing me to explore different options before committing to a specific research direction. As an international student, it was challenging to visit labs beforehand, and CBEE's approach gave me the freedom to make an informed decision.
Another invaluable aspect of CBEE is its mentor-mentee program, through which I had the privilege of connecting with Maisha, a UMBC alumnus now who was also an international student from Bangladesh. Maisha's support and guidance were exceptional – she assisted me not only in academic matters but also in various smaller details I was unfamiliar with, including documentation and personal chores. Her willingness to help and incredible support made my transition to UMBC and the graduate program much smoother. The sense of camaraderie and support within CBEE truly made all the difference in my graduate school experience.
Additionally, CBEE also places emphasis on networking to cultivate strong professional connections and provides us with opportunities to meet alumni and industry professionals through career development events throughout the academic year. My advisor has also consistently encouraged me to attend conferences, allowing me to network with leaders in my field of research while also presenting my work. Last year, I had the opportunity to present at an AIChE conference in Phoenix, and this summer, I participated in a week-long program at the Micron School of Materials Science and Engineering at Boise State University to learn the applications of quantum chemistry. Through this, I have had the privilege of getting to know many talented individuals in my discipline who are working on exciting research projects. I always come away from these experiences with meaningful connections and inspiring ideas that drive me to work harder and approach my projects in creative ways.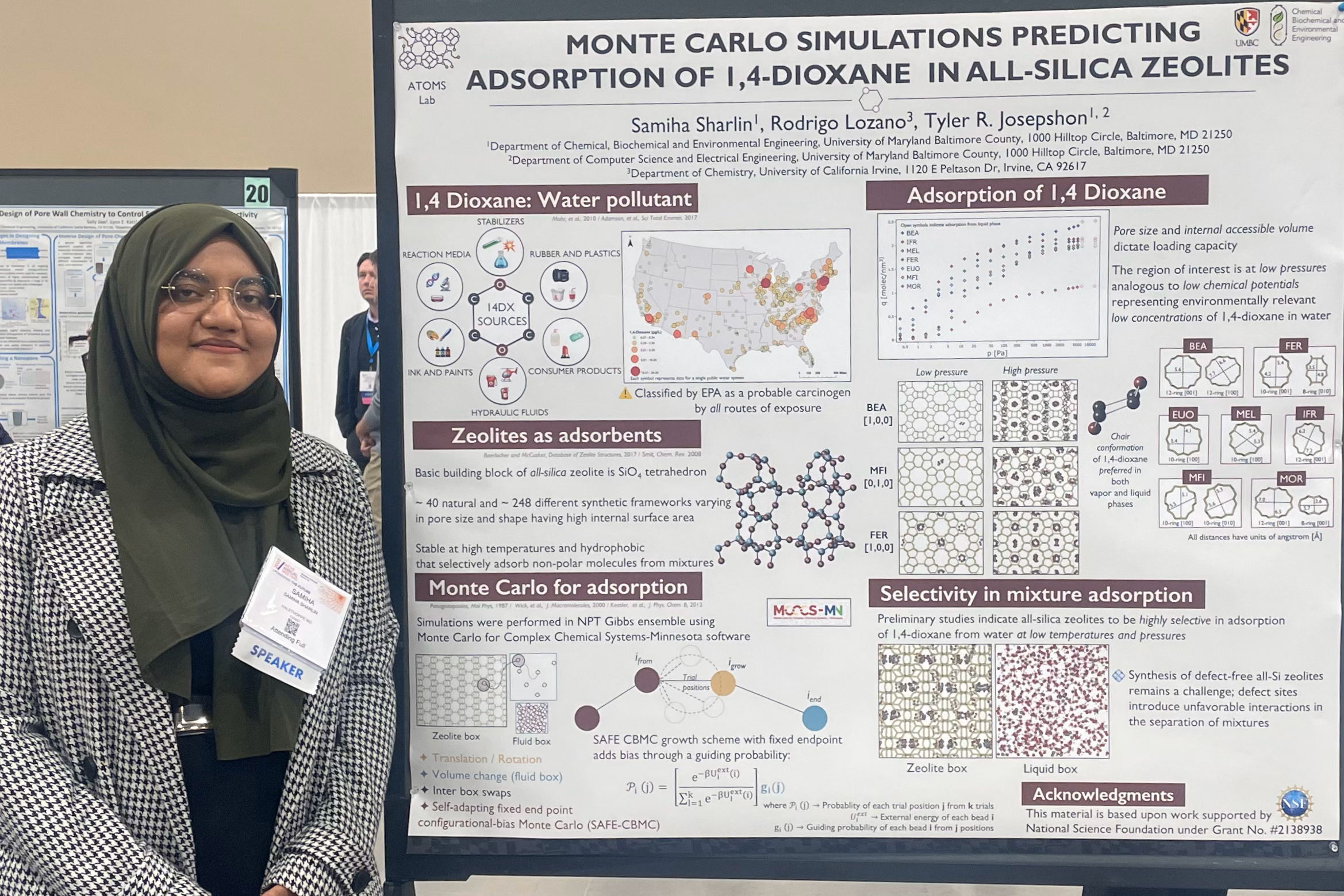 Samiha Sharlin standing beside her poster at the 2022 AICHE Annual Meeting in Phoenix, Arizona. The poster is titled MONTE CARLO SIMULATIONS PREDICTING ADSORPTION OF 1,4-DIOXANE IN ALL-SILICA ZEOLITES. Photo Credit: Samiha Sharlin
Tell us about someone in the department who has inspired you or supported you & how did they do it?
Andrea [Miller, Graduate Program Coordinator] has been an incredible support throughout my time at CBEE. With her, I never hesitate to seek advice or ask questions because she creates a comfortable and open atmosphere. Despite usually struggling to ask for help, I've never felt that hesitation in her presence.
Dr. Leach, as the Graduate Program Director, was also a significant source of support for me during the lab rotations. And, of course, I can't speak highly enough about my advisor, Dr. Josephson. He has consistently gone above and beyond to understand and assist me, particularly considering the challenges of being a first-gen international student. In fact, the entire department has been incredibly supportive, and I've always felt their genuine dedication to helping students succeed.
What's the one thing you'd want someone who hasn't joined the UMBC community to know about the support you find here?
As I've emphasized earlier, the people you surround yourself with are of utmost importance. At CBEE, you'll discover an environment that is truly conducive to learning and growth - supporting you academically, professionally, and personally. UMBC also offers a wide range of student organizations that cater to diverse student interests. UMBC MSA (Muslim Student Association) has given me a sense of belonging and comfort that I did not expect to find in college. I am grateful for the wonderful people I have met through them and the positive and uplifting atmosphere they foster.
What would you tell others who are in your shoes at UMBC?
After coming here, I felt like I was in a race at first, and I couldn't help but feel that I was falling behind in every aspect of life. However, as I looked around and saw the diverse backgrounds and unique stories of everyone, I had a deep realization and learned to make peace with my timeline and embrace the individuality of my path. Now, this experience has transformed into a truly rewarding journey.
Embarking on this adventure of pursuing my dreams in a foreign land, far away from my family and friends, was a daunting decision. Yet, with time, I discovered my way and something truly special: a new family of friends who have made this journey far more meaningful and fulfilling!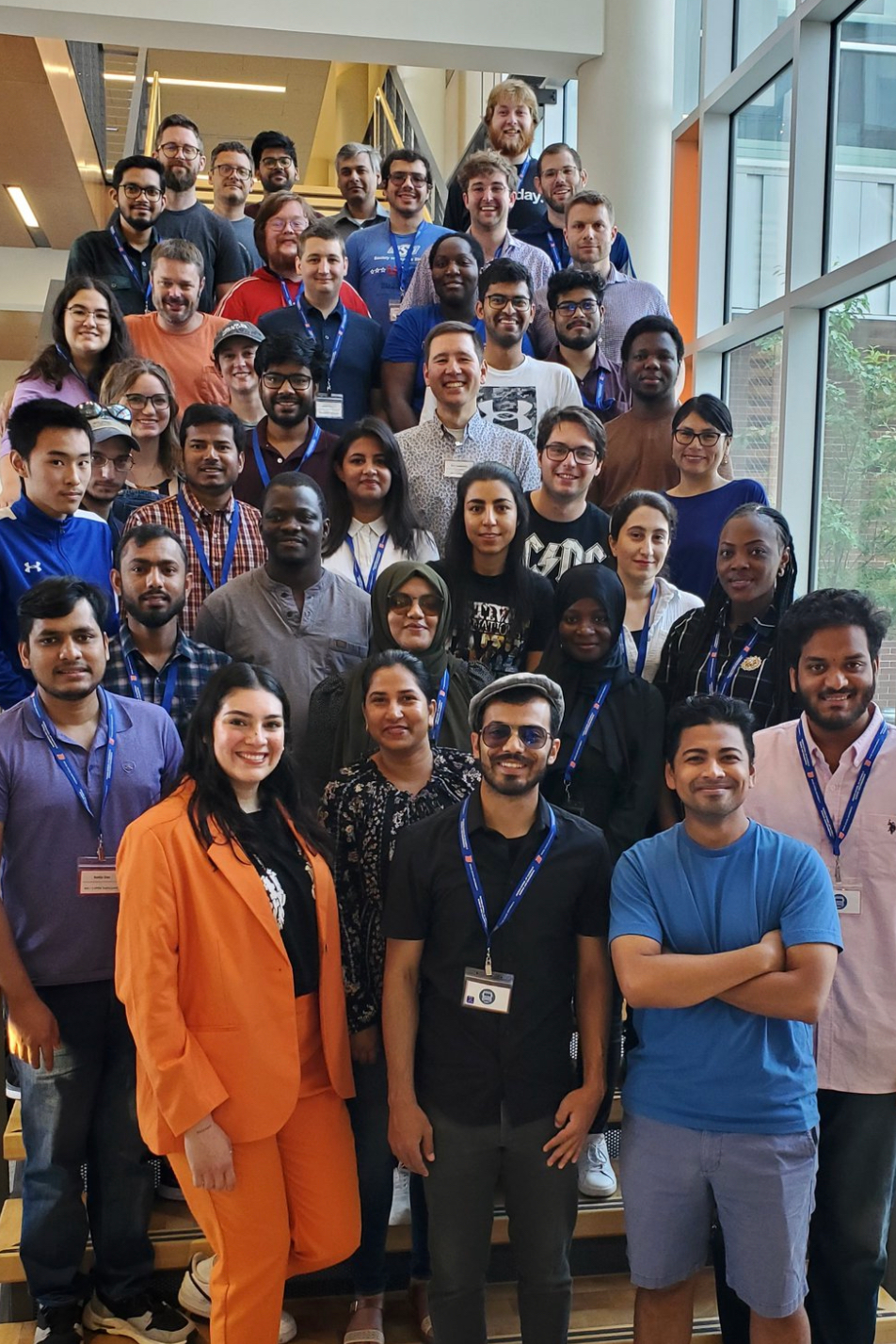 The 2023 participants for the I-COMSE workshop on Fundamentals and Applications of Density Functional Theory at the Micron School of Materials Science and Engineering at Boise State University. Photo provided by Samiha Sharlin. 
Posted: August 17, 2023, 4:12 PM