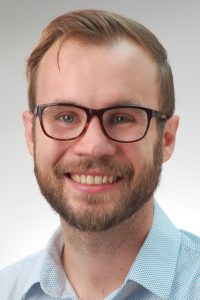 Title
Associate Professor
Contact Information
Engineering, Room 318
blaney@umbc.edu
410-455-8608
Education
Ph.D. Civil Engineering – The University of Texas at Austin, 2011
M.S. Environmental Engineering – Lehigh University, 2007
B.S. Environmental Engineering – Lehigh University, 2005
Research Interests
The thrust of our research deals with the fate and transport of emerging contaminants in natural and engineered systems. Many of our projects focus on environmental detection of pharmaceuticals or treatment processes aimed at removing pharmaceuticals from drinking water/wastewater matrices. Pharmaceuticals, and other wastewater-derived contaminants, have been detected in surface water, groundwater, and finished drinking water, and while these compounds are present in relatively low concentrations, their toxicological significance with respect to environmental and human health is not fully understood. Regardless, a growing body of literature suggests that these compounds cause reproductive abnormalities in aquatic species thereby increasing concerns over potential human health issues.
To remove pharmaceuticals from water and wastewater sources, our lab employs ozone- and UV-based oxidation processes. In these treatment processes, oxidants (e.g., ozone and hydroxyl radicals) transform parent pharmaceuticals into specific products that oftentimes exhibit similar chemical structures as the parent pharmaceuticals. Identification and characterization of these transformation products constitutes one of the core activities of our research group. As the chemical structures of some transformation products are similar to the parent pharmaceuticals, we also investigate whether transformation products exert the same biological activity as parent compounds. For example, do transformation products formed through ozonation of antibiotics exhibit antibiotic properties? By measuring not only the concentrations of pharmaceuticals in natural and engineered systems, but also the biological activity of the corresponding water samples, we hope to describe pharmaceutical presence in natural and engineered systems using a dual metric that more accurately characterizes a water's ability to exert specific biological activity.
Shashvatt, U.; Aris, H.; Blaney, L. Evaluation of animal manure composition for protection of sensitive water supplies through nutrient recovery processes. Book chapter, in "Chemistry and Water: The Science Behind Sustaining the World's Most Crucial Resource" edited by Satinder Ahuja (Elsevier), In production.
Fu, Q.-L.; Blaney, L.; Zhou, D.-M. (2016). Phytotoxicity and uptake of roxarsone by wheat (Triticum aestivum L.) seedlings. Environmental Pollution 219, 210-218.
Snowberger, S.; Adejumo, H.A.; He, K.; Mangalgiri, K.P.; Hopanna, M.; Soares, A.D.; Blaney, L. (2016). Direct photolysis of fluoroquinolone antibiotics at 253.7 nm:  Specific reaction kinetics and formation of equally-potent fluoroquinolone antibiotics.  Environmental Science & Technology 50(17), 9533-9542.
Fu, Q.-L.; He, J.-Z.; Blaney, L; Zhou, D.-M. (2016). Sorption of roxarsone onto soils with different physicochemical properties. Chemosphere 159, 103-112.
Blaney, L.; Kandiah, R.; Ducoste, J.J.; Perlinger, J.A.; Bartelt-Hunt, S.L. (2016). Trends in the population and demographics of U.S. environmental engineering students and faculty from 2005 to 2013. Environmental Engineering Science 33(8), 578-590.
Van Epps, A.; Blaney, L. (2016). Antibiotic residues in animal waste:  Occurrence and degradation in conventional agricultural waste management practices. Current Pollution Reports 2(3), 135-155. (erratum)
Hopkins, Z.; Blaney, L. (2016). An aggregate analysis of personal care products in the environment: Identifying the distribution of environmentally-relevant concentrations. Environment International 92-93, 301-316.
Fu, Q.-L.; He, J.-Z.; Blaney, L; Zhou, D.-M. (2016). Binding of roxarsone to soil dissolved organic matter: Insights from multi-spectroscopic techniques. Chemosphere 155, 225-233.
Fu, Q.-L.; He, J.-Z.; Gong, H.; Blaney, L; Zhou, D.-M. Extraction and speciation analysis of roxarsone and its metabolites from soils with different physicochemical properties. Journal of Soils and Sediments 16(5), 1557-1568.
Adak, A.; Mangalgiri, K.; Lee, J.; Blaney, L. (2015). UV irradiation and UV-H2O2 advanced oxidation of the roxarsone and nitarsone organoarsenicals. Water Research, 70(3), 74-85.
Mangalgiri, K.P.; He, K.; Blaney, L. (2015). Emerging contaminants: A potential human health concern for sensitive populations. PDA Journal of Pharmaceutical Science and Technology, 69(2), 1-4.
He, K.; Soares, A.D.; Adejumo, H.; McDiarmid, M.; Squibb, K.; Blaney, L. (2015). Detection of a wide variety of human and veterinary fluoroquinolone antibiotics in municipal wastewater and wastewater-impacted surface water. Journal of Pharmaceutical and Biomedical Analysis, 106, 136-143.
Mangalgiri, K.; Adak, A.; Blaney, L. (2015). Organoarsenicals in poultry litter:  Detection, fate, and toxicity. Environment International 75(2), 68-80.
He, K.; Blaney, L. (2015). Systematic optimization of an SPE with HPLC-FLD method for fluoroquinolone detection in wastewater. Journal of Hazardous Materials, 282, 96-105.
Van Epps, A.; Blaney, L. "Pharmaceuticals and personal care products in wastewater:  Implications for urban water reuse" in Handbook of Urban Water Reuse edited by Saeid Eslamian. Francis and Taylor (CRC Group), 2015.
Ramakrishnan, A.; Blaney, L.; Kao, J.; Tyagi, R.D.; Zhang, T.C.; Rao, S. (2015). Emerging contaminants in landfill leachate and their sustainable management. Environmental Earth Sciences, 73, 1357-1368.
Hernandez-Maldonado, A.J.; Blaney, L. (2015). Advances in analysis, treatment technologies, and environmental fate of emerging contaminants. Editorial for special issue of Journal of Hazardous Materials 282, 1.