T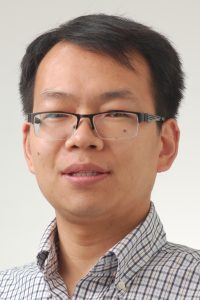 itle
Assistant Professor
Contact Information
Xu Lab Website (Synthetic Biology and Cellular Engineering lab)
Engineering, Room 323
pengxu@umbc.edu

Education
Postdoc Associate, Chemical Engineering – Massachusetts Institute of Technology, 2016
Ph.D. Chemical and Biological Engineering – Rensselaer Polytechnic Institute, 2013
M.S. Biochemical Engineering – Jiangnan University, 2006
B.S. Biological Engineering – Jiangnan University, 2003
Research Interests
The Xu lab is interested in developing biological solutions to solve challenges in health, environment and energy. The research group dedicate themselves to engineering the chemistry (the mass flow) and the control modules (the information flow) inside the cell to design tailor-made cell factories with improved titer, yield and productivity. Specific research topic is focused on the metabolic cost, evolutionary stability and ecological interactions of cell metabolism at genetic, biochemical and multi-species scale, with the goal to engineer robust microbial cell factories for efficient production of life-saving drugs, green chemicals and advanced materials. Cellular regulation and feedback control mechanisms will be exploited to construct genetic/metabolic circuits that achieve self-tuning metabolic function and reshape cell fate with diverse biotechnological and medical applications. The current lab is interested in three broad area including synthetic biology, metabolic engineering and biomolecular engineering.
Selected Publications – Google Scholar
Silverman, A, Qiao K, Xu P and Stephanopoulos GN. (2016) Functional overexpression and characterization of lipogenesis-related genes in the oleaginous yeast Yarrowia lipolytica. Applied Microbiology and Biotechnology. 100(8):3781-3798.
Lim CG, Wong L, Bhan N, Dvora H, Xu P, Koffas M. (2015) Development of a recombinant Escherichia coli strain for overproduction of the plant pigment anthocyanin. Applied and Environmental Microbiology. 81(18):6276-6284.
Bhan N, Li L, Cai C, Xu P, Linhardt R and Koffas M. (2015) Enzymatic formation of a resorcylic acid by creating a structure-guided single-point mutation in stilbene synthase. Protein Science, 24: 167-173.
Xu P, Li L, Zhang F, Stephanopoulos GN and Koffas MA. (2014) Improving fatty acids production by engineering dynamic pathway regulation and metabolic control. Proceedings of the National Academy of Sciences, U.S.A., 111(31):11299-304.
Xu P, Wang W, Li L, Bhan N, Zhang F and Koffas MA. (2014) Design and kinetic analysis of a hybrid promoter-regulator system for malonyl-CoA sensing in E. coli. ACS Chemical Biology, 9(2): 451-458.
Xu P, Gu Q; Wang W, Wong L, Bower A, Collins CH and Koffas MA. (2013) Modular optimization of multi-gene pathway for fatty acids production in E. coli. Nature Communications, 4: 1409.
Xu P, Bhan N and Koffas MA. (2013) Engineering plant metabolism into microbes: from systems biology to synthetic biology. Current Opinion in Biotechnology. 24(2): 291-299.
Bhan N, Xu P and Koffas MA. (2013) Pathway and protein engineering approaches to produce novel and commodity small molecules. Current Opinion in Biotechnology, 24(6): 1137-1143.
Xu P, Vansiri A, Bhan N and Koffas MA. (2012) ePathBrick: A synthetic biology platform for engineering metabolic pathways in E. coli. ACS Synthetic Biology, 1(7):256–266.
Xu P, Ranganathan S, Fowler Z, Maranas CD and Koffas MA. (2011) Genome-scale metabolic network modeling results in minimal interventions that cooperatively force carbon flux towards malonyl-CoA. Metabolic Engineering, 13(5): 578-587.