UMBC receives $2.8M from NSF for master's programs
preparing a diverse environmental science workforce
September 23, 2019 8:12 AM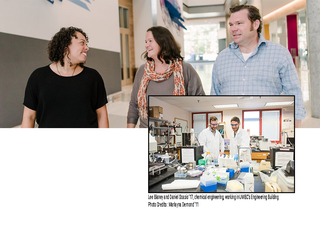 UMBC receives $2.8M from NSF for master's program to prepare a diverse environmental science workforce
by Sarah Hansen | September 18, 2019
An interdisciplinary team of UMBC professors has received $2.8 million from the National Science Foundation to create a new master's program focused on developing a more diverse environmental science workforce. The program, called the Interdisciplinary Consortium for Applied Research in Ecology and Evolution (ICARE), is funded by a highly competitive NSF Research Traineeship (NRT) grant.
Student projects through the program will focus on environmental issues faced by the Baltimore Harbor and the surrounding region. To ensure students are developing research projects with tangible impacts, they will collaborate with partners in all levels of government as well as non-profit and community organizations focused on the environment. 
The ICARE NRT also creates new opportunities to build a more diverse environmental workforce. "The primary mission of UMBC is inclusive excellence, and our NRT applies that mission to the environmental sciences," says Tamra Mendelson, professor of biological sciences and the lead on the project. "Our main objectives are to bring a diversity of backgrounds to the environmental workforce and to improve the way that scientific research is applied to environmental problems."
Baltimore in focus
UMBC is known for its links to Baltimore City, and ICARE's deliberate focus on the Baltimore Harbor and its surroundings builds on that connection. "The students' thesis projects need to be tied directly to solving problems in the Baltimore Harbor, which is in the spirit of what UMBC does," says Chris Swan, professor of geography and environmental systems.
The challenges the region is facing reflect environmental challenges the country and planet are facing on a larger scale, from shifting weather patterns, to air pollution and heat island effects, to water quality concerns. 
"The health of the Baltimore Harbor is improving, and I am hopeful that the work of ICARE will bolster ongoing efforts to make the Baltimore Harbor a model for the whole country," says Lee Blaney, associate professor of chemical, biochemical, and environmental engineering. "It is my hope that the research focus on the Baltimore Harbor will set up ICARE and UMBC to make lasting, sustainable, and positive impacts in our city."