Lee Blaney and collaborators publish landmark study
research will examine contaminants in the Chesapeake Bay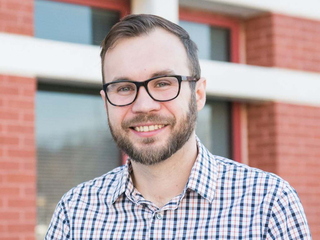 August 26, 2019 by Megan Hanks
UMBC's Lee Blaney and research partners have published a landmark study on contaminants of emerging concern in the Chesapeake Bay. Their article in Science of the Total Environment is the first research study that quantifies concentrations of antibiotics, estrogenic hormones, and UV-filters in multiple locations of the Bay.
Blaney, an associate professor of chemical, biochemical, and environmental engineering, conducted the research with Ke He, Ph.D '17, chemical engineering, and Ethan Hain '21, chemical engineering. They also partnered with collaborators at the U.S. Forest Service and the Maryland Department of Natural Resources. 
Underway since 2016, their work highlights the importance of understanding how previously unexamined chemicals impact the environment. The project has been primarily funded by Maryland Sea Grant through a Program Development Fund to Blaney, and a Graduate Research Fellowship to Hain.
The researchers studied the prevalence of contaminants of emerging concern in water, sediment, and oyster tissue collected from the Eastern Shore of the Chesapeake Bay. Their study of how accumulated UV-filters negatively impact the environment is the first of its kind. UV-filters are one of the primary ingredients in personal care products, such as sunscreen and cosmetics. The accumulation of these UV-filters can impact organisms and animals.