Naomi Mburu named Rhode Scholar!
First student in UMBC history to receive this scholarship
November 20, 2017 10:40 AM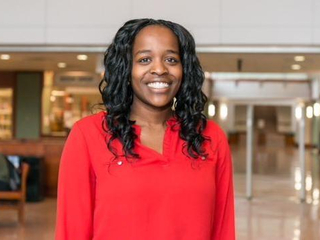 The Rhodes Trust, which awards scholarships for two years of postgraduate study at Oxford University in England, named UMBC 
student Naomi Mburu of Ellicott City. 
Mburu, 21, a senior studying chemical engineering at the University of Maryland Baltimore County, is the first student in the school's history to receive a Rhodes scholarship
UMBC President Freeman Hrabowski
 said the recognition "speaks volumes about both Naomi as a fine thinker and future leader and about the education she's received here.
Hrabowski said he got goosebumps and tears in his eyes when he learned Mburu had been selected. He was one of the school officials who recruited her to UMBC, with the promise that she would be able to attend any graduate school of her choosing afterward.
"I knew if she came here she would have great opportunities to do research and grow as a person," he said. "We're very honored that people saw the strength of her thinking and capacity to be a major leader in our society."
-- UMBC News/Baltimore Sun