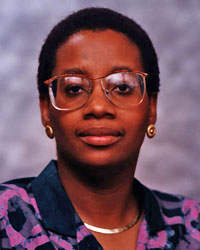 Janet Antoine Lumpkin was one of the nation's first African-American female faculty members in the chemical engineering field.
Dr. Lumpkin
joined UMBC in 1991 and brought her skills to bear on understanding the mechanisms and kinetics involved in protein stability. She passed away in 1997.
The department honors her memory each year with a memorial lecture, attracting as speakers some of the field's most pre-eminent scholars and practitioners, including Daniel Wang, David Tirrell and Leroy Hood. The lecture was part of UMBC's Life Science Symposium, "A Look Ahead."
Past Lectures
---
2008
Dr. George Georgiou
Department of Biomedical Engineering
Institute for Cellular and Molecular Biology
The University of Texas at Austin
---
2007
Dr. E. Albert Reece
Dean, University of Maryland School of Medicine
University of Maryland, Baltimore
---
2006
Dr. David Tirrell
Chair, Division of Chemistry and Chemical Engineering
California Institute of Technology
---
2005
Dr. Laura Kiessling
Department of Chemistry and Department of Biochemistry
University of Wisconsin-Madison
---
2004
Dr. Gregory Stephanopoulos
Bayer Professor of Chemical Engineering
Massachusetts Institute of Technology
---
2003
Dr. Leroy Hood
President & Co-founder
Institute for Systems Biology
---
2002
Dr. Barry Buckland
Merck & Co. Inc.
---
2001
Dr. Sangtae Kim
Donald W. Feddersen Distinguished Professor of Chemical Engineering
Purdue University
---
2000
Dr. Douglas A. Lauffenburger
Professor of Chemical Engineering
Massachusetts Institute of Technology
---
1999
Dr. Daniel I.C. Wang
Institute Professor of Chemical Engineering
Massachusetts Institute of Technology
---
1998
Dr. Arthur Humphrey
Professor of Chemical Engineering
Pennsylvania State University