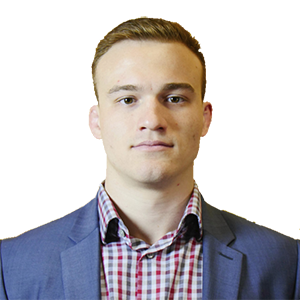 I was inspired to choose UMBC because the university met everything on my checklist and more.  I wanted a school with a wrestling program, UMBC has a robust club sports program. I knew I wanted to do Chemical Engineering, and UMBC's undergraduate program was impressive.  The location and price of UMBC also influenced my decision.
The most useful thing I learned as a CBEE student at UMBC and have utilized in the real world is the ability to learn.  The skillsets learned as an undergraduate are broad, preparing students to tackle problems in any industry. In my case, this is application development for manufacturing automation and data analysis.
Senior design allowed me to make friends whom I still see and talk to regularly.  We built comradery through the challenge of designing our own factory while taking an introspective look at what makes each of us unique engineers.
The networking opportunities at UMBC are not to be overlooked.  I have built up my career since freshman year through the UMBC Club Wrestling network.  There are more opportunities there, as well as many in the UMBC Club Rugby network. I've even had the amazing opportunity to give back to the network at UMBC by recommending peers for jobs at my current company, where they can grow as engineers.
I am currently an analytics engineer at a lithium ion battery factory.  On the surface, it doesn't seem like I'm much of a chemical engineer. That couldn't be more wrong.  I apply concepts from thermodynamics, controls, statistics lab, MATLAB, circuits, and much more on a wide range of projects.  However, what is most important are the soft skills of critical thinking, continuous learning, and raw work ethic driving the completion and correctness of automated solutions.
The dividends paid off from this program are much more than a salary and title.  You will learn to overcome any challenge life throws at you, you will make lifelong friends, and you will become a better person.